Leadership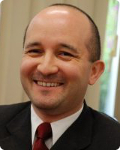 Aliomar Silva de Oliveira - Director of Operations
Master in Administration by UFRGS, Bachelor in Computer Science and Post-Graduate in Systems Analysis by UNISINOS. He has been involved in technology and management for more than 30 years. In the last 25 years he has been in management and project/team management positions and as a consultant, almost all in educational institutions. Communicates in Portuguese, Spanish and English.
Francisco Guhimarães - Director of Marketing and Relationship
Specialist in Computer Science and Bachelor in Systems Analysis by PUCRS. He has worked in IT and management for more than 30 years, including two decades in projects with educational institutions and consulting services, as a consultant and manager. He has strong expertise in the area of Business Intelligence (BI), with more than 20 years in both professional and academic activities.

Romeu Forneck - Director of Strategic Development
PhD in Economics in Germany, PhD in Social Sciences by UNISINOS and Master in Administration (Finance) by PUC-Rio. He also has a specialization in Business Management, Finance and Quality Engineering. Has more than 25 years of experience in higher education; in leading economic development projects; in the executive management of higher education institutions, class organs and sponsoring entities; in the financial restructuring and strategic planning of educational institutions and as an executive in public finance. Communicates in Portuguese, German, Spanish and English.